Patient Story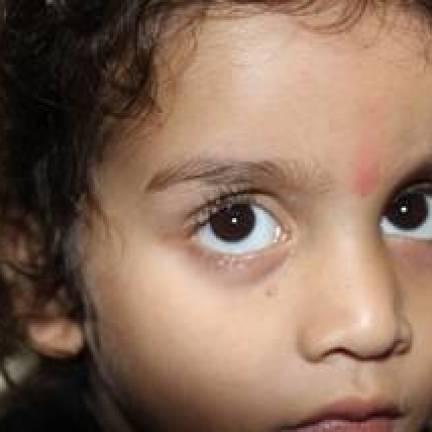 Patient Name : Vansh Mishra
Disease : Molluscum Contagiosum
Last Updated on : 22 Dec 2017
Case Started on : 29 Sep 2017
Vansh Mishra, a 6-year-old boy visited Dr. Ravi Balrampur's clinic with his parents on 29th September 2017. He complained of raised, firm bumps with pimples on the right eye area. His parents mentioned that the bumps appeared three months back. A molluscum appeared first and then gradually, spread over the eyelid, corner of the eye, and the under eye area. They consulted many doctors but observed no improvement. One of the doctors suggested to operate on it and mentioned that there were chances that the boy loses his vision. His parents got worried as their child was just 6 years old. Dr. Ravi told them that the disease can be treated without any surgical intervention. He assured that everything would be fine and initiated the treatment process.
After 28 Days
When he came for a follow-up on 27th October 2017, there was a visible improvement. His molluscum had started subsiding and the molluscum at the upper eyelid of his right eye disappeared. His parents were happy and believed that their son would be fine soon.
After 2 Months and 24 Days
When he came for a follow-up on 22nd December 2017, there were no bumps. Dr. Ravi cured the condition in just 3 months. Initially, his parents couldn't believe that their son's condition can be treated via medicine transmission through hair treatment process. His mother considered it a miracle as the treatment did not involve taking a single pill. His parents were grateful to Dr. Ravi.
A Message from Vansh Mishra
When I have visited this clinic first time, I was expecting some medicine or ointment for my son's stubborn trouble. After showing my kid to Dr. Ravi I have seen information written at his clinic of the method of "hair transmission", but as the last hope, I have tried. I have been to many dermatologists from Lucknow to Balrampur but they offered no permanent results. One of dermatologist suggested me for CAUTERISATION and before that expecting to sign a clinical agreement as if any damage to the eye will happen he will not be responsible. I was scared and left him. Fortunately, I met Dr.Ravi and I have " no words" to explain my joy of curing my son with such a harmless and gentle way. My wife's acidity problem has also been cured. Thanks